About
The cottage is situated within yards of the sea, at a most spectacular location on the north shore of Clachtoll Bay. The site is known as Am Port Creadhach, [ Clay Port ] and has been an area of settlement for over 2000 years. A Pictish broch stands on the coast to the north of the house.
The rubble remains of some of the original houses at Port Creadach are found within the dry stone enclosed area. Outwith the walls, the 30 acre croft includes a wetland area frequented by a variety of birds.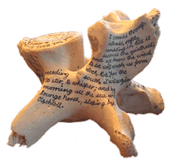 The coastline is spectacular and endlessly photogenic. The photograph above, shows the cottage is situated 200 yards from the sandy beach at Clachtoll. The clear turquoise waters of the bay, offer safe swimming.
The cottage is in the shelter of a low hill, and faces south. The building was constructed in 2003. It is faced in white Skye marble with feature wooden shutters. The cottage consists of a lounge / dining area, 1 double bedroom and 1 twin bedoom, 1 attic, 3 further beds, fully equipped kitchen, toilet / shower room.
A paved patio in front of the house provides an outdoor extension to the lounge and a superb vantage point to enjoy the scenery. Several times during the year it is possible to see whale, orca, dolphin, basking shark and porpoise in the waters just off-shore.
During the summer months the owner is available, to take interested guests for boat trips down the coast to Lochinver, or guided walks in the Assynt area.